If you have been to my house for a play date, you know I love crafts :)
I have been pondering for awhile how to make one-on-one playtime with Kaitlyn meaningful. I have seen several mommy's who have
muffin tin monday
or
themed days
.
It looks like they have so much fun with their little one.
Well, here is my attempt to live out Deuteronomy 11:19. To teach Kaitlyn about how BIG God is in our everyday lives. I'd love for you to join me as we learn that God Made Me and all about the others things God Made.....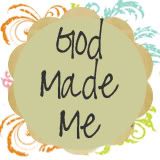 Look out for our first God Made ME! post.....
.God Made Me! and God made Critters!!