This month we learned that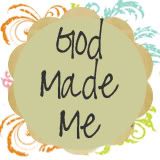 R
evelation 4:11
"
Worthy are You, our Lord and our God, to receive glory and honor and power; for You
created all things, and because of Your will they existed, and were created."
For breakfast we learned about Butterfly's.
Didn't our breakfast turn out soo cute!!
Butterfly Toast
Poppyseed Butterfly Muffins
We painted a pretty sun-catcher of a butterfly while wearing our
butterfly wings.
We made
caterpillars
out of Popsicle sticks and a
lady bug
on a paper plate.
We even got to use soap with ladybugs in it!!
We went on a
bug hunt!
Isaiah
45:18
"
For this is what the LORD says— he who created the heavens, he is God; he who fashioned and made the earth, he founded it; he did not create it to be empty, but formed it to be inhabited— he says: I am the LORD, and there is no other."
We made a
thumb-print caterpillar
and a caterpillar chain
and played a caterpillar

color matching game
Watched A Bugs Life.
Read and sang about The Eency Weency Spider and had an
oreo spider
for a snack
Thank you Lord for all making Me and making
C
R
I
T
T
E
R
S!